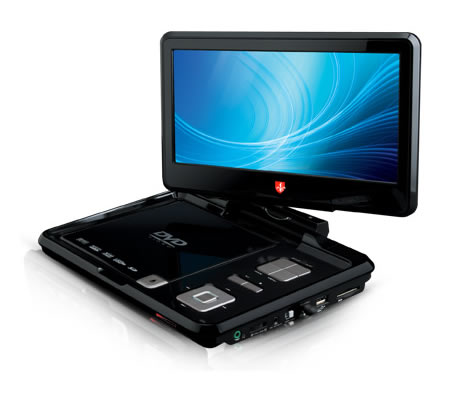 TheThe Shubert DVP1090 9" Portable DVD Player makes it easy to enjoy your favorite DVD movies on the go. The progressive scan DVD player is compatible with a wide range of disc formats, and movies come to life on the 9-inch widescreen swiveling display with a 16:9 aspect ratio. There is a stereo audio output that works with any standard 3.5mm headphones, as well as built-in dual speakers. An AC adapter, DC car adapter, remote control, and carrying bag are included.
The 9-inch, color display swivels 180 degrees for easy visibility
Vivid Swivel Display
This portable player offers a vivid 9-inch, TFT color display to watch your DVD collection on. The 16:9 aspect ratio allows you to watch your favorite movies or zooming to fit the screen, cutting off part of the shot. The screen swivels 360 degrees for easy visibility.
Compatible with a Wide Range of Disc Formats
The built-in DVD player can play back both conventionally recorded PAL and NTSC discs as well as recordable disc formats like DVD+/-R and DVD+/-RW. For increased versatility, this player can play various discs besides DVDs, including 8cm and12cm CDs. The player is compatible with recordable CDs (CD-R), and you can even play your digital music burned to a CD-R, allowing you to enjoy your MP3-format files through the player.
SD Card Reader
Watch your digital movies and listen to your MP3 library direct from an SD card, thanks to a built-in SD card reader.
Rechargeable Battery
The player is powered by a rechargeable Lithium-ion battery for maximum portability. Charge up the player using the included AC power adapter.
Carrying Bag Included
Carry your player, AC and car chargers, multifunction remote, and earphones with the included carrying bag for easy transport. This package comes with everything you need to enjoy DVDs on the go.

Dimensions: 280 x 102 x 230